It's time for your info-packed SEO newsletter to kick off the weekend and keep you up to date on the latest news, SEO tactics, tests, and so much more.
We had an exciting week and you won't want to miss a thing!
What Happened on the SEO Vault this Week
Deal of the week: Gain access to the April 8th Agency Growth Webinar this weekend only when you spend $500+
Featured Service: Page Speed Optimization Coming Soon!
SEO Mad Scientist: GMB Emoji Ranking Boost
To your success,

Chaz and the Entire Team

FROM THE VAULT – Episode 80
Don't forget The SEO Vault airs live on the Web 20 Ranker Facebook every Thursday at 4 pm EST.
Co-Host: Sophie Allen
Local GMB Updates

Google Maps Street View Images For Service Area Home Businesses

New Tool Google My Business Review Removal Request Status

Emojis In Google Search Suggestions & Autocomplete

Google Showing Product Image Thumbnails In Search Snippets More Often

New sentiment GMB layout on Mobile

– Watch the Latest SEO Vault Episode here
– Listen here: https://pod.co/theseovault
Interested in being a guest on the vault!? Sign up now
https://forms.gle/ae5Dh575BqYieDBEA

Time for another weekend deal
Exclusive Agency Webby Comming Up!
3/19-3/21
Web 20 is known for providing free training, resources, tools, and webinars!
We love to see agencies grow and help you stay well-informs on what's happening right now with SEO.
For a limited time only this Friday the 19th through Sunday the 21st we are opening access to the April 8th Agency Accelerator Webinar to anyone that spends $500 or more at Web 2.0 Ranker.
Get Answers To Your Toughest Agency Growth & SEO Questions live along with Systems To Create Efficiency And Improve Outcomes within your agency
This may be the only agency growth webinar we offer all year! Start 2021 off right by ensuring you are doing everything possible to secure growth and provide results to your clients
Coming Soon
Page Speed Optimization
We will soon be launching our own Page Speed Optimizations service. Over the next few weeks, we will be opening to beta testers only.
Our Page Speed Optimization Process
1. Reduce redirects
2. Database optimization
3. Optimization of files cluster
4. Htaccess optimization
5. Html/js/CSS/images compression
7. Browser caching
8. Lazy loading config for chat widgets
10. Manual image optimization
11. Minifying CSS, JavaScript, and HTML
12. Remove render-blocking JavaScript
13. Use asynchronous loading for CSS and JavaScript files
14. External platforms for videos if required
To be amongst the first to join in on the process you can sign up here





https://web20ranker.com/page-speed-optimization-is-coming/
SEO Mad Scientist
If you were around earlier this week in the Local SEO Community, we posted some geogrids of a few test GMBs that have been showing tons of improvements recently. Today we are doing a final review on one of these listings and start looking at all the things that have been done and occurred over the past 6-8 months of testing…
But first, let's close out this week with the final test done to this listing, playing around with something we love to test… EMOJIS!
We know emojis aren't super exciting but we have seen some good use for them at capturing more real estate and higher CTRs in the SERPs. (Using emojis in your FAQ schema for example in our previous tests)
But today we are going to look at a GMB listing where we added emojis to the business name…
So before we look at the before and after results, we have to understand a few things about emojis in search.
One, you can search for an emoji as well as a string of emojis. Google knows what an emoji is and what it "represents"…
With that said, this is ONLY true for organic search.
You can not just search an Emoji in Maps, it is not recognized.
However, it is clear that searching a keyword with an emoji modifier is modifying the results.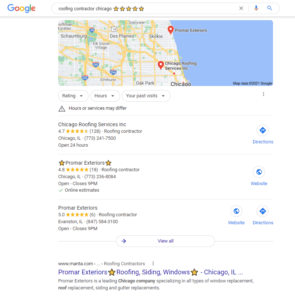 This includes searches in Maps. It impacts the maps to the point that it pulls a listing that had an emoji "
" left in a review…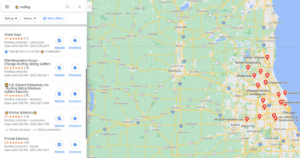 Take note of the fact that the first listing has a star in the review while the 4th listing has the stars in the business name. So the top listing may be more authoritative but does Google seem to think the reference in the review is more relevant to the search than in the business name?
More importantly, does this mean Google is pulling relevance from the review?
When searching for "car title loan" but replacing the car with the car emoji, we see that Google bolds the term "car" in the search as well, so without even testing it is clear Google knows what's going on here…
So we kept it simple and we added some "relevant" emojis to our "title loans" listing. This included
, which is for "car document banknote" (this is also the listing we added the GMB short link loop in the website settings. The gains we thought we might have seen from this did plateau)
Our last tests done on the listing showed no movement specifically for "car" or "auto" title loan terms so we figured we would look at these terms to see if we see any movement from our Emojis.
So for all terms related to "car", we did see a noticeable boost…
We are still analyzing the data and will be back next week with more test results as we review all the things done over the past months to this listing and re-run some tests that showed some promise…
Until next time, happy testing!
Get Your Free Campaign Recommendations Today!
Not sure what would be the best route for your SEO campaign? No worries, we've got you covered!
Find Out Exactly What You Need to Rank
Quick and easy, yet powerful in results!
Want to earn a $50 store credit?
In order to receive a $50 store credit, the only thing we need from you is a short video (at least 30 seconds) explaining:

1) Who you are and what you do
2) What you bought and why you bought it
3) How the product worked for you and the pros of it!

That's it! 3 simple topics and you could be on your way to $50 towards your next purchase!

You can send your videos to: [email protected]