Here's to another work week down and what better way to celebrate than with your favorite info-packed SEO newsletter to keep you up to date on the latest news, SEO tactics, tests, deals, and much more.
What Happened on the SEO Vault this Week
Weekend Deal: Black Friday SEO Sale
SEO Mad Scientist: More SEO Emoji Fun. Do Emoji Links Work?
To your success,
Chaz and the Entire Team
FROM THE VAULT – Episode 116
Don't forget The SEO Vault airs live on the Web 20 Ranker Facebook every Thursday at 4 pm EST.
Co-Host: Mike Milas +  Bucky Helms
Special Guest: Eldar Cohen + Jessie Taylor
50% Of SEOs Not Seeing Impact From Google November 2021 Core Update

Google Structured Data Markup Helper Is Outdated

Google Confirmed Crawling Bug But Said There Were No Negative Effects

Google Image Search Tests New Related Image Carousel


– Watch the Latest SEO Vault Episode here
– Listen here: https://pod.co/theseovault
Interested in being a guest on the vault!? Sign up now
https://forms.gle/ae5Dh575BqYieDBEA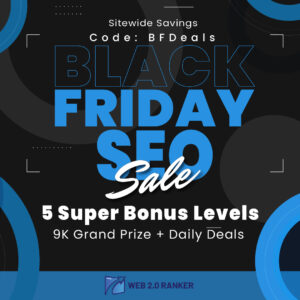 Black Friday's Here But Our Sale Will Last Through Tuesday, November 30th
25% off EVERYTHING Use Code: BFDeals
Plus 1 Grand Prize Winner $9K SEO Mega Pack
Here at Web 2.0 Ranker, we hold nothing back during our Black Friday SEO Sale! SEO's wait all year to stock up on services to use in the future while saving money and creating a larger ROI for their agency.
>>> https://web20ranker.com/black-friday-holiday-sale/
Buy now and use as needed, as always all purchases never expire (even store credits)
Just by meeting the spend threshold, you will automatically be receiving the prizes included in one of our 5 bonus levels.
On Top of the Giveaways and Sitewide Savings, We Also Have Daily Deals
Friday: 10% cashback on all purchases
Saturday: Free SEO Life Swag
Sunday: Free $69 Premium Press Release + Free $199 Targeted Media Outreach campaign
Monday: Monthly DFY SEO, GBP SEO, and DFY Link Building receive: FREE (5) Hours of Custom Signal Creation every single month for the life of that campaign (new campaigns only), plus 1 Free Google News Link from Freshlinks.io
Tuesday: Free $99 On-Page Optimization + Free $147 Technical SEO Audit
Unlock All Bonus Levels and Enter to Win the 9K SEO Giveaway
SEO Mad Scientist
Hey there Mad Scientists. Glad to see you back for another update on our exciting emoji test!
If you haven't been following along we've been testing emojis again as we found some interesting things in the SERPs
When searching an emoji in the search bar with related terms it's clear that we can see Google is cross-referencing the relevance of what the emoji is in relation to what they believe the intent is you are searching.
However, we have seen more emphasis on Google correlating the relevance of the emoji to a term versus a term to an emoji.
If you search "rabbit face t-shirt", you generally will not get listings with emojis in them but if you search "
t-shirt", you will see results for rabbit face t-shirts that don't have emojis on the page. If you do searches like "rabbit face symbol" you will find emojis. This gives us another look into how Google is cross-referencing the relevance based on search intent…
Last week's test did have some issues due to the emojis not showing up correctly on the page. Because of this, we looked into some more data to see if we could find any type of movement from our efforts, but it appears that all of our test terms, including "scale purple cow attorney", were not impacted.
This leads us to believe that whatever correlation Google is making with the emoji and the relevant terms, is not as simple of a signal as putting an emoji on a web page or using it as a backlink.
We are repeating this test one more time with a more relevant emoji, and instead of a fake keyword, we are going to target the brand…
This means that our anchor text and links will have our emojis and we will also be building off-page anchor text links with the same emojis.
If we see a result we'll go back and do a more granular test but this will give us an overall understanding if we can see any type of result from these types of links.
Be sure to check back next week for another update on emoji interlink and backlink testing…
Until then, happy testing!
Get Your Free Campaign Recommendations Today!
Not sure what would be the best route for your SEO campaign? No worries, we've got you covered!
Find Out Exactly What You Need to Rank
Quick and easy, yet powerful in results!
Want to earn a $50 store credit?
In order to receive a $50 store credit, the only thing we need from you is a short video (at least 30 seconds) explaining:

1) Who you are and what you do
2) What you bought and why you bought it
3) How the product worked for you and the pros of it!

That's it! 3 simple topics and you could be on your way to $50 towards your next purchase!

You can send your videos to: [email protected]