What You Should Know About Your GBP Categories & Services + Frightening Deals are Here
Happy Friday!
Is it possible to show for terms without having the specific category chosen?
This week we tested whether you can show for a specific term without selecting a category on the SEO Mad Scientist. Read the entire test below to find out!
On this week's episode of the SEO Vault, we discussed what we're seeing with the latest content, spam, and core updates, Google's view on using link wheels, Google showing fewer FAQ rich results, and other SEO news!
SEO Updates & News This Week:
> Is Google Showing Fewer FAQ Rich Results? (Rank Ranger)
> Google Site Name At Domain Level But Favicons At Domain and Subdomain Levels
> John Mu: Google: Link Wheels Are Against Google's Guidelines & Are Link Schemes
> Google Local Pack In Web Search Showing Up Less Often? (Rank Ranger & SEM Rush)
👻 Save 25% On All SEO Services
Use coupon code: spooky25
to save 25% sitewide.
Not sure what to buy but want to save money?
Purchase Store Credits to lock in savings that last longer than the candy on Trick or Treat night.
👻 Plus, get a better-than-full-size candy prize just by submitting your vote in our employee costume contest
Voters will receive a $50 store credit
Submit your vote for your favorite costume on the Web 20 Facebook page! Once the sale is over, we will email all those who voted with instructions to claim your prize.
Not sure what links to buy? Let us help!
We have FREE link recommendations and a link buying guide that provides best use cases for the different types of links you need now.
The Q3 SEO Mad Scientist report will be published in the next couple of weeks. Be on the lookout for that!
To your success,
Chaz and the Entire Team
Our Top 6 SEO Services When On A Budget

Are you working on a tight budget? SEO campaigns can be costly but, they're critical in boosting your client's online presence and SERP visibility. Therefore, we've come up with a list of services that don't break the bank. Read this blog to find out our affordable services that will help you make the most out of your client's budget.
If you are not sure which of our campaigns would provide the best results for your clients, get FREE custom campaign recommendations from our team!
This Week on The SEO Vault
Episode 162
Hosts: Chaz Edwards + Mike Milas
+ Bucky Helms + Benjamin Olson
What we discussed this week…
✔️ How Google views link wheels
✔️ New Google Business Profile Web Search Menu Now Rolling Out
✔️ Google Shopping Ads Overlay Carousel Testing Top & Bottom
Watch the Latest SEO Vault episode to catch up on the most recent local update and so much more.
> Answered: Any tips on silo pages for service pages and local SEO?
Don't forget The SEO Vault airs live on the Web 2.0 Ranker Facebook and YouTube every Thursday at 2 pm EST.
Interested in being a guest on the vault!? Sign up now
https://forms.gle/ae5Dh575BqYieDBEA
This Week in the Lab with SEO Mad Scientist

What You Should Know About Your GBP Categories
& Services
Welcome back, mad scientist, for another SEO testing update.
Today, we wanted to take a closer look at our Google business profile categories and services from our tests over the past few weeks.
We've been attempting to show one of our test listings for the keyword "website design." You can reference the previous test here, where we added the service term to our website after already having it in our services under our "internet marketing service" category.
We have yet to get any real movement from the term other than related "website design CITY" terms, but even those haven't held any solid rankings, as you can see from our follow-up here.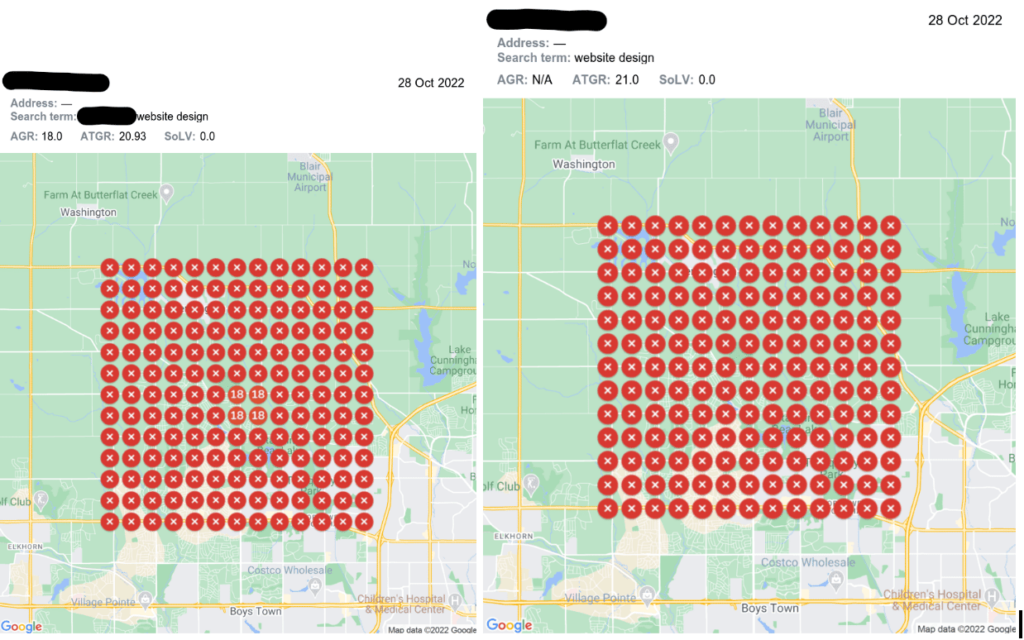 Unlike our other services, website designer is a specific category for your maps profile. So we were wondering if maybe you could not rank for these certain terms unless you had the proper corresponding category.
We've now added the corresponding category to see if we get any movement on those terms, but we still had the question, "Can you show for terms without having the specific category chosen?"
However, when we looked at some of our previous tests, one specific term stood out: "Telemarketing."
You can see on this listing that telemarketing was pulled in as one of our services from the website, and it's underneath the primary category "Marketing Agency."
From the Geo grids, we can see that we are showing for this term and variations.
However, "telemarketing service" is its own category…
So it was interesting to see that we had no rankings when running that term.
So there is a possibility that showing for an exact category term without having the category selected may not be possible. But relevant service terms listed under other categories do influence "related terms."
This could be useful for adding more relevancy between categories and services based on sub-services categories.
Meaning that if we were trying to rank for "Telemarketing Services," then selecting that as a primary category with sub-services such as "outbound Telemarketing" would probably be the best place to start, but considering other relevant categories that can have relevant sub-services may help as well.
So selecting "marketing agency" as a secondary category and adding "telemarketing campaigns" as a service under that category may be beneficial.
As usual, we will continue our testing and let you know what we find. Be sure to join us next week with more helpful SEO test updates, and until then, Happy Testing!
If you're looking for an affordable rank tracker (local & organic), this is it! We've built a better rank tracker with improve accuracy (& not a huge price tag). Sign-up for a beta test account and check it out for FREE!
You can manage client listings, track local rankings, schedule posts, and easily perform local SEO audits. Plus, agencies love our easy-to-use dashboard for multi locations.
Your clients can easily understand the color-coded GeoGrids that plot listing visibility. You can manage all listings in one dashboard for easier reporting and schedule posts for them too.
We love free training – LCT is filled with it! Check out Chaz's updated Local SEO 2.0 Course, Link Mastery Course, and GMB SEO Specialist Course. We also give away the closed trainings during sales!
⚡ Resources for Agencies ⚡
Chaz and the team hold a free webinar each quarter to discuss what's currently working for them. Our next webinar is scheduled for Wednesday, June 22nd.
Find out what your client needs to rank with our free recommendations! We audit and research their current rankings, brand strength, and overall position.
Save time and money with our free tools like SEO pricing calculator, tech audit, proposal generator, and free audit tools. Also find trainings & past webbys in our knowledge base.
The SEO Mad Scientist is constantly testing strategies, which we used to publish 12 months of tests in 2021 + Quarterly Testing Reports for this year!
Don't Miss Out on Our Biggest Updates
Opt-in to our Text Notficiations and you'll get a 15% OFF coupon sent right to your phone!
But don't worry about spam texts…
We save our text lists for the BIGGEST deals and even BIGGER announcements!
Access special deals + sale notifications
& never miss out on savings!