It's time for your info-packed SEO newsletter to kick off the weekend and keep you up to date on the latest news, SEO tactics, tests, and so much more.
We had an exciting week and you won't want to miss a thing!
What Happened on the SEO Vault this Week

Deal of the week: 25% Cashback in Store Credit on Premium and Do-Follow Press Releases


SEO Mad Scientist: Are We In a GMB Update?
To your success,
Chaz and the Entire Team

FROM THE VAULT – Episode 86
Don't forget The SEO Vault airs live on the Web 20 Ranker Facebook every Thursday at 4 pm EST.
Co-Host: Mike Milas
Local SEO Roundtable Webinar: Wednesday, May 26th @2 pm https://www.facebook.com/groups/localseocommunity/permalink/547544066229793/

New IOs Rollout Affecting Marketers

Fake Reviews on GMBs Dead

Google Image Searches Box With Bell Icon For Updates

Brands Value Domain Authority Because They Mistakenly Think Google Values DA

What to do about clients canceling and back charging

– Watch the Latest SEO Vault Episode here
– Listen here: https://pod.co/theseovault
Interested in being a guest on the vault!? Sign up now
https://forms.gle/ae5Dh575BqYieDBEA
New Weekend Deal Alert
4/30 – 5/2
25% Cashback in Store Credit on Premium and Do-Follow Press Releases
For every dollar that you spend at Web 20 Ranker, we are giving you 25% cashback store credit to use on any future purchase! (Bulk credit orders excluded)
That's right, if you spend $100 at Web 20 Ranker you'll receive a $25 store credit to use on Web 20 any time. These savings stack up quickly and help your agency to get the best services money can buy for a lot less than anywhere else.
>>> https://web20ranker.com/web-2-0-press-release-service/
>>> https://web20ranker.com/do-follow-news-syndication/
Shape how a brand is perceived, as well as providing a foundation for effective online reputation management and goodwill campaigns. Our press releases can be powerful brand statements!
Curious about the best practices for using a press release? Sign up now to receive instant access to the Press Release SEO Guide and find out how to put news syndication to work for better rankings in your SEO campaigns
https://web20ranker.com/press-release-seo-strategies/
SEO Mad Scientist
Welcome back to another SEO Mad Scientist update! This week we are going to look at some weird test results and go over how we believe we are in the middle of a GMB update…
But first…
Let's talk about our suspended GMB listing from earlier this week. If you didn't see in the group, last week we got an email from GMB about our listing being suspended…
This is now the second test listing we have had suspended in over a year, and when we posted about it, one of the questions that came up was, "why was it suspended ?"
We hadn't made any recent changes, hadn't done any "weird" tests (like emoji names), and were on an account with other test GMBs that were obviously not legit. So why was this one targeted? Well, we believe it was flagged by a user…
The fact is when we look at the recent metrics for the site, it was gaining a lot of traction (another reason we wanted to dig into what was previously done)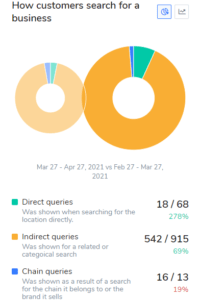 It's because of this that we believe the listing was most likely seen by someone who flagged it. There was a good possibility someone went to the address as we had the address listed on this listing.
The fact the listing was doing so well was odd, considering it only had an optimized description and that was about it. We were interested to why rankings may have gone up however because when checking our other test listing, we saw that things had gone a little crazy…
Here are just 2 of the listings…
This obviously makes it difficult to give any solid update on our tests.
The one thing we did want to note however is that all of the test listings that are currently doing this are on the SAME account as the listing that got suspended over the weekend.
So do you think this is due to an update or possibly Google targeting the account due to the suspension?
Be sure to look out next week for the update to see what happens and if any more listings get suspended. Until then…
Happy Testing!
Get Your Free Campaign Recommendations Today!
Not sure what would be the best route for your SEO campaign? No worries, we've got you covered!
Find Out Exactly What You Need to Rank
Quick and easy, yet powerful in results!
Want to earn a $50 store credit?
In order to receive a $50 store credit, the only thing we need from you is a short video (at least 30 seconds) explaining:

1) Who you are and what you do
2) What you bought and why you bought it
3) How the product worked for you and the pros of it!

That's it! 3 simple topics and you could be on your way to $50 towards your next purchase!

You can send your videos to: [email protected]