Here's to another work week down and what better way to celebrate than with your favorite info-packed SEO newsletter to keep you up to date on the latest news, SEO tactics, tests, deals, and much more.
What Happened on the SEO Vault this Week
Weekend Deal: Save 30% on Tech Audits and On-Page Services
SEO Mad Scientist: Can Emojis Rank?
To your success,
Chaz and the Entire Team
FROM THE VAULT – Episode 117
Don't forget The SEO Vault airs live on the Web 20 Ranker Facebook every Thursday at 4 pm EST.
Co-Host:  Bucky Helms + Sophie Allen
Special Guest: Benjamin Olson
John Mu: Google Doesn't Index Parts Of A Page Separately Unless It's Embedded Content

December 2021 Google Product Reviews Update Rolling Out – What We See So Far

60% Of SEOs Saw No Changes With The Google November Core Update

John Mu: Our Product Experts Don't Get A Ranking Boost Or Ranking Secrets


– Watch the Latest SEO Vault Episode here
– Listen here: https://pod.co/theseovault
Interested in being a guest on the vault!? Sign up now
https://forms.gle/ae5Dh575BqYieDBEA
The Weekend Savings are Happening Now!
This Friday 12/3 through Sunday 12/5
Save 30% On Technical Audits and On-Page Optimization 
Coupon Code: Tech30
Identify Technical SEO Issues That Are Preventing Your Website From Ranking 
 Screaming Frog Technical Audit
Google Search Console Performance Audit
Google Search Console Coverage and Usability Audit
Keyword Cannibalization Identification
Page Quality Rater Guideline Audit
Complete Site Health Guideline Report
Action Item List for Implementation
On-Page Optimization For Improved SERP Ranking
Surfer SEO Report
Titles, Tags, and Metas
TF-IDF and Semantics
Co-Occurrence Tactics
Entity Recognition Signals
Internal Linking and Silos
TOC Jump Link Optimization
Organizational & FAQ JSON LD Schema
Proper Technical SEO helps sites achieve fast ranking results. If you want to prioritize your SEO efforts, make sure you tackle the technical aspects first.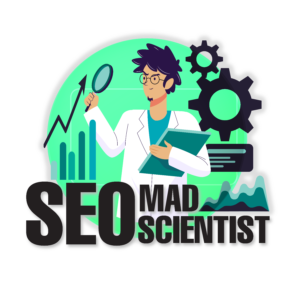 SEO Mad Scientist
Hey there Mad scientists welcome back to another week of updates…
As you know we've been doing some testing with interlinking emojis and have also begun running off-page emoji backlink tests as of last week's update.
Our first interlinking emoji test didn't seem to have much of a result at first. There were some issues within the test and so we may not have the most accurate data.
What had happened is we initially structured our test so that we would target "purple
attorney". The plan was to build internal links to a target page and see if the inner links made this term go up. The title of the page had "purple cow attorney" in the H1 but did not contain the emoji.
The thought behind this was if we build the links with the emoji and the anchor text and we see that the base keyword without the emoji goes up, then there must be some correlation and relevance.
The problem was that our website had issues recognizing the cow emoji and just replaced it with symbols so we ended up building links with the scale emoji to try and impact the keyword "scale purple cow attorney".
Now we didn't see any movement in the scale keywords but we do see that the web page is now showing for  "purple
attorney" and the term "purple cow attorney" has moved up one spot.
Obviously, there's a lot to consider here and the data is somewhat skewed because the test changed halfway through. But the fact is we added the word "purple cow" to the H1 of the target page, and then built inner links to it and now Google is showing the page with the emoji of a cow when searching instead of just the word.
So when searching an emoji in the search bar, Google does seem to correlate that relevance to a word, but so far there are no signs that using an emoji within context correlates to relevance for what that emoji represents.
It seems odd that there is only one way that this relevance is pulled but this is why we moved on to our off-page emoji anchor texts.
We now have our off-page link tests running but before we get into those results we want to finish up this week with an update on our "hidden content" indexation tests.
If you didn't see the previous indexation test we did then you should go back and take a look. A quick overview of the test was simply putting a bunch of test keywords on a page and hiding the terms by various methods using CSS or simply by changing the text color to match the background…
By doing these tests we were able to see what type of hidden content Google was indexing even though it was not visible from the front end of the site.
To our surprise, every single one of our test keywords was indexed and showed up in Google even though it was hidden from the front end of the page.
Recently however we have seen that one of the test terms has dropped off the indexation list which means either something has changed with Google's algorithm where they no longer will allow this type of hidden text to index, or, this type of hidden text simply will just drop off from the index over time because of some type of benchmark within Google's algorithm possibly having to do with quality.
What we do know is that our test term "wllkqoaq" completely fell off from the index…
This was the test term we hid using CSS that made the text 100% transparent…
We will continue to watch her other indexation tests and let you know if we see any more drop-off or if the transparent text indexes and comes back in the SERPs.
Until then be sure to join us next week when we look at some updates from our off-page emoji link tests and until then as always, happy testing!
Get Your Free Campaign Recommendations Today!
Not sure what would be the best route for your SEO campaign? No worries, we've got you covered!
Find Out Exactly What You Need to Rank
Quick and easy, yet powerful in results!
Want to earn a $50 store credit?
In order to receive a $50 store credit, the only thing we need from you is a short video (at least 30 seconds) explaining:

1) Who you are and what you do
2) What you bought and why you bought it
3) How the product worked for you and the pros of it!

That's it! 3 simple topics and you could be on your way to $50 towards your next purchase!

You can send your videos to: [email protected]