If you don't think your Google rank is important, think again.
By pushing your content from 10th place on Google to first place, you increase your click-through rate tenfold.
However, if you don't check your Google rankings, you won't know where to focus your efforts to get more clicks and grow your organic traffic.
Read on to learn how to check Google rankings and the best tools to use.
Why is it important to check your Google rankings?
Where you rank on Google search results directly affects the amount of organic traffic you receive on your website. Half of all clicks go to the top search result on Google, while every other result has to share the remaining 50%.
To be the go-to result for people searching on Google, you need to hit that number one spot.
This is because the webpage that gets to the top of the search engine results page (SERP) is deemed to have the greatest authority. For search engine (SE) users, the result that reaches number one is most likely to be the correct or most useful answer to their query.
By checking your Google ranking, you know how much work you need to put in to get to the number one spot and who you need to compete with.
But that's not the only reason to check Google rankings.
Checking where you appear in the SERP results helps you improve search engine optimization (SEO) to capture more leads.
Understanding your ranking position for a specific keyword gives you an idea of your target audience's search intent and how well you meet those needs.
This helps to inform your future SEO strategy to optimize your content and increase your keyword ranking.
Plus, by checking your search engine ranking, you prioritize the content that needs optimizing. You're far better off increasing your SEO efforts on articles that just miss the top spots instead of trying to push a 15th place article up the ranks.
8 rank tracker tools to check Google rankings easily
While you can check the Google rank of each target keyword individually, this is extremely time-consuming. Instead, try using a rank tracking tool to get a complete overview of how your SEO strategy is performing.
Here are eight top tools to check your keyword position and see how your website is ranking.
1. Google Search Console
Created by Google, this tool is specifically designed to track your website's presence on the popular search engine.
Google Search Console makes it easy to track your website ranking performance.
Follow these steps to check your rankings in GSC:
Simply click on the 'Search Results' tab under Performance
Click 'Queries' to see all the search terms that your website ranks for.
Make sure you select the average position in the chart to see it in the table below.
Not only does it show you your ranking position, but it also displays the number of impressions and clicks you receive for this keyword, as well as your click-through rate.
Google Search Console is free to use. Simply connect the website through your domain host.
2. Ubersuggest
Built by Neil Patel, Ubersuggest is an all-around SEO tool. Not only does it help you to understand your Google keyword ranking, but Ubersuggest also provides information on your technical SEO and offers competitive analysis.
Use the Keyword Analyzer tool to get a keyword ranking report that shows which search terms your website ranks for. This report shows you the search volume, your position, the number of established visits, and the SEO difficulty of the keyword.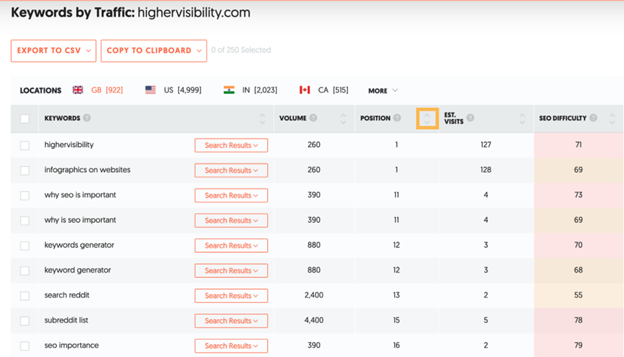 You can also use the keyword planner tool to explore possible targeted keyword ideas, build keyword lists, and explore content ideas.
You can perform five free searches per day, but you'll only get limited results. Packages start from $29 per month for one user, with a seven-day free trial.
Are you frustrated with your google rankings?
Since 2009, we have helped hundreds of businesses generate more online leads and sales through SEO. Let us do it for you!
3. Ahrefs
Ahrefs is one of the top SEO tools on the market, designed to give deep insights into your SEO performance. While the rank checker part of the tool is only one small aspect of its total functionality, it's extremely useful at giving you an in-depth view of your SE ranking.
Ahrefs rank tracker tool shows you the keyword rankings for both desktop and mobile searches. You can also check your local ranking.
Simply input your website, and the rank checker tool shows you which keywords you rank for, the position, the keyword difficulty, and search volumes.
Ahrefs will also show you whether you rank for Google's extra features, such as the featured snippet, sitelinks, top stories, image pack, and "people also ask" sections.
Packages start at $7 for a seven-day trial and then $99/month after that.
4. SEMRush
SEMRush is another popular SEO tool that's designed to help marketers build a robust SEO strategy. This tool helps you research your target keywords and look into the keywords you organically rank for.
Use the Organic Research tool to type in your website and determine which keywords your website already ranks for. The ranking report will tell you what position you rank, how difficult each keyword is, and the search volumes associated with each term.
You can also use the Position Tracker tool to set up tracked keywords and monitor your performance. This section of the tool features graphs and charts that offer representations of your keyword performance.
Use this section to find out about your keyword position and rank distribution, which pages rank for your chosen search terms, and whether you rank in the Google snippet.
This tool is free for one user with one project. To upgrade, packages start at $119.50 per month for five projects.
5. MozPro
MozPro is also a comprehensive SEO software that includes a rank-checking tool. Besides rank tracking, MozPro also helps SEO experts perform site audits, backlink analysis, and keyword planning.
This tool helps you keep track of your target keywords. You input your focus keywords and MozPro will show you how you perform for both mobile and desktop visibility. It will also show whether you've experienced a ranking drop over the last month.
Unlike other SEO platforms, MozPro uses STAT, the most advanced, detailed rank tracker in the world. Most other ranking platforms give you an average position, but MozPro's software gives you exact real-time results that change throughout the day.
Packages start from $99 a month with a free trial.
Are you frustrated with your google rankings?
Since 2009, we have helped hundreds of businesses generate more online leads and sales through SEO. Let us do it for you!
6. SERanking
SERanking is another all-around platform for SEO that offers tools to help marketers with SEO audits, backlink analysis, SEO reporting, social media analytics, and keyword tracking.
This keyword tracker doesn't automatically give you a report on your organic keywords. It helps you track your target keywords. However, when you set up a project and choose the keywords you want to track, it does suggest keywords based on your organic results.
You can set the geographical location of your keywords to track local ranking scores. You can also add competitors for comparison. The tool will suggest competitors you may want to track.
For your tracked keywords, SERanking will show you your position, average overall rank for all keywords, average overall visibility, traffic forecast, and whether you appear in SERP features.
If you want to track organic keywords, you need to connect this tool to your Google Analytics and Google Search Console.
Packages start from $18 per month for ten projects, with a 14-day free trial.
7. Sitechecker
Sitechecker is a full SEO suite that offers tools to complete site audits, track backlinks, monitor site performance, and track search result rankings.
The rank tracking tool helps you monitor the performance of your chosen focus keywords and shows you the organic keywords that rank for your site.
You can adjust tracking by geo-location and language. You can also track keywords across multiple different search engines, not just Google.
The handy chart shows how many keywords are in the top position, as well as those that rank in positions two to three, four to ten, and so on. You can click the search term to see the article that ranks for this specific keyword. It will help you prioritize the content you should optimize.
The tool is free to use for your first ten keywords. Packages start at $23 per month for three websites, with a seven-day free trial.
8. The Hoth
A very basic tool for teams who simply want to check their Google rankings, The Hoth is designed to show you where you rank quickly and easily.
Simply sign in with LinkedIn and type in your website. The tool will show you which keywords your rank for organically and what position you rank in. You'll see search volumes, the number of results, and the percentage of traffic that your pages command for this search term.
Hover over your rank score to see which page ranks for each term, along with your ranking drop over the last month.
This tool is completely free to use.
Conclusion
It's not difficult to check Google rankings — you have plenty of tools at your disposal.
From basic, free tools, like The Hoth, through to extensive SEO platforms, like MozPro, you'll find it's simple to get an in-depth look at your organic keywords and the keywords you're focusing on.
Are you frustrated with your google rankings?
Since 2009, we have helped hundreds of businesses generate more online leads and sales through SEO. Let us do it for you!
The post How to Check Google Rankings: 8 Handy Tools appeared first on HigherVisibility.