Let's end the week with your favorite info-packed SEO newsletter to keep you up to date on the latest news, SEO tactics, tests, and so much more.
What Happened on the SEO Vault this Week
Deal of the week: 4th of July Super SEO Sale
Product Spotlight: AP News Brand Feature
SEO Mad Scientist: GMB Update, Were Our Test Sites Hit?
To your success,
Chaz and the Entire Team
FROM THE VAULT – Episode 95
Don't forget The SEO Vault airs live on the Web 20 Ranker Facebook every Thursday at 4 pm EST.
Co-Host: Sophie Allen + Mike Milas
Special Guest: Jessie Taylor



Google Search Spam Algorithm Update Part Two On June 28th


Google Ads Is Deprecating Broad Match Modifier Keywords In Late July


Google Forums Carousel In Mobile Search Results


Crawled – Currently Not Indexed: A Sign Of A Google Quality Issue?

– Watch the Latest SEO Vault Episode here
– Listen here: https://pod.co/theseovault
Interested in being a guest on the vault!? Sign up now
https://forms.gle/ae5Dh575BqYieDBEA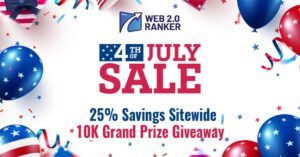 Buy services, Win prizes, Easy as that!
6 Days Left to Save During The 4th of July SEO Sale
Now Through Wednesday, July 7th
Happening now at Web 2.0 Ranker is our biggest giveaway yet. You could be the winner of our $10k giveaway just by making purchases you already need or buying credits if you don't currently need any services but want to take advantage of the discount.
Purchase store credits here
https://web20ranker.com/product/4th-july-sale-credits/
Plus, who doesn't want to get their hands on some of our SEO Life Swag like the Burled Wood Tumbler, SEO Life CaseLogic Computer Bag, or receive one of Chaz's top 3 sales books for agency owners!
Need to stock up on Press Releases? Know that you'll soon be landing clients who could use one of our Accelerated GMB campaigns? Buy now knowing that you can save some money but charge future clients the same price. We're all about seeing our customer's ROI go through the roof!
For complete details on the sale visit
https://web20ranker.com/4th-of-july-seo-super-sale/
Just Launched! Get Your Brand Featured On AP News
The Strongest Brands Get Backlinks From The Strongest Websites
AP News articles get you live links from a trusted, authoritative, and internationally recognized news source.
AP News Features
– 800-Word Expertly Written Brand Featured Article
– Newsworthy Brand Feature
– Do-Follow Links
– Great for Branding, Public Relations, ORM, Brand Announcements and Updates
– Add Images, NAP and Contact Section
– Upgraded Content Included
– Powerful Results
In addition to their powerful impact, AP News Brand features are impressive, newsworthy content you can show off to clients and leverage for additional coverage. It's a great client deliverable to showcase noteworthy content. Their international following also increases exposure, brand awareness, and overall reach.
Get your AP News Feature Now
https://web20ranker.com/ap-news-brand-feature-article/
SEO Mad Scientist
Hey there everyone and welcome back to another weekend update with the SEO Mad Scientist. As you know this week we are going to be switching to some different tests as we continue our ongoing CTR tests.
If you haven't seen the past few updates and all the CTR tests that we've just finished please be sure to go back and look at the past 3 weeks to get the inside scoop…
Moving into this week let's talk about some of our test listings.
In the last episode of The SEO Vault, there was discussion about certain GMB listings getting hit that had the city name or even possibly keyword in the name and not being well-branded.
As you may know from following the SEO Mad Scientist, we have a ton of GMB listings with keywords and cities in the name that we've set up for purely testing purposes. This means they have little to no branding whatsoever.
Combined with what we see with all the legitimate campaigns running at Web 2.0 Ranker, it's clear to tell there was an impact on these GMBs that did not have any real brand prominence.
This week we wanted to take a quick look at a test listing of ours that took a hit because of this. It's safe to say about 80% of our test listings that were purely set up for testing with no branding were either suspended or drastically dropped in rankings over the past 30 to 60 days…
As you can see there's a clear correlation between the keywords that were affected and the listings business name…
With that said we have a lot of GMB campaigns that involve the keyword or city in the name, that are performing very well due to the brand building that was done.
We've long speculated that our testing results may be sweet as well due to the fact that they were single variable tests and we believe that Google's algorithm most likely took multiple signals to determine any type of relevance or prominent score for listing. This is why simply adding keywords to the business description would never produce results.
We are going to be redoing some older GMB tests over the following months as well unless things are performing very well already to see if we can find any type of trend in ranking fluctuations as opposed to our single variable tests.
Be sure to join us next week for more test results while we dig further into more single variable organic tests that we have been working on over the past month…
Until then Happy testing.
Get Your Free Campaign Recommendations Today!
Not sure what would be the best route for your SEO campaign? No worries, we've got you covered!
Find Out Exactly What You Need to Rank
Quick and easy, yet powerful in results!
Want to earn a $50 store credit?
In order to receive a $50 store credit, the only thing we need from you is a short video (at least 30 seconds) explaining:

1) Who you are and what you do
2) What you bought and why you bought it
3) How the product worked for you and the pros of it!

That's it! 3 simple topics and you could be on your way to $50 towards your next purchase!

You can send your videos to: [email protected]